Renowned astrologer V.K.Sharma's predictions, which he had made alongside the world Astrologers Convention held in New Delhi in 1980, almost became true.
Mr.Sharma had on 17 September, 1970 predicted in Hint Weekly that Mrs.Indira Gandhi would form a new government in January 1980.
Mrs.Gandhi, indeed, won the general elections with thumping majority and formed the government on January 5, 1980.
Mr.Sharma had earlier predicted that Congress would suffer severe defeat in the Lok Sabha elections after emergency and prospects of a new coalition government under Janta Party would be brightened. His predictions were turned out true.
Morarji Desai, led the government soon after emergency.
On January 2, 1981, Mr.Sharma had predicted in Hint Weekly the death of Mrs. Indira Gandhi with a life cycle chart of Mrs. Gandhi. He wrote that year 1985 will be critical for her with a remark that "she must take every possible precautions." Mrs. Indira Gandhi died on October 31, 1984, just two month before 1985 starts. On march, 30, 1981, Mr.Sharma in his daily column in Hint Weekly had predicted numerous developments, which were going to take place in India and abroad. During the same time, the world Astrologer Conference was also going on simultaneously in New Delhi, in which some renowned astrologers took part. Although he had not attended the convention, but predicted various development, which were going to take place in near future. Here is the comparison.
Three days, World Astrological Convention held in the auditorium of the Young Men's Christian Association (YMCA) in Delhi in 1981, the main participants were Mr. Narain Dutt Shrimali (the then president of Indian Astrological Federation), Mr. Manak Chanda Jain (the then president of Indian Astrological Federation), Mr. Sridhar Keshav Kalkar, Swami Ajasyanath (Vizag Astrologer) and Robert S Hand (the then, National President of American Federation of Astrologers), They have given their predictions as under:
1. Narain Dutt Shrimali:
There will be a World War in 1984, following which India will emerge among top 10 powers.
The Nehru family will rule the country throughout the present century.
India will largely get over its energy problem in 1983.
2. Manek Chand Jain
Meneka Gandhi will do much better than Rajeev Gandhi in politics.
Third World War will spark off any time around April 4th this year. It will continue for three years. Possibly Iran will provide the fuse that will ultimately blow into a global war. A religious prophet will emerge in India, who will bring peace in 1984.
Both Pakistan and Bangladesh will be wiped out of the world map by April-May this year.
3. Swami Ajasyanath
There will be a midterm poll in 1982 in which Mrs. Gandhi will win again.
Meneka Gandhi has bright chance to become the prime minister during the 80's.
4. Sridhar Keshav Kelkar
The country's leadership will be changed this year(1981), in the wake of popular movements.
The Congress (U) has a bright future in the years to come.
5. Robert S. Hand
There will be a brushfire wars in 1982, but not a world war.
V.K.Sharma
There will be no world war in 1984.
The Nehru family will not rule the country throught the present century.
Energy problem will remain the same in coming years.
Neither Meneks Gandhi nor Rajeev Gandhi will do better in Politics.
There will be no world war this year, because Mrs. Gandhi is Passing through the climatic year 1981. All the possibility of world war will come to an end by her efforts.
There will be no midterm poll in 1982.
Meneka Gandhi has dull chances to become the primeminister in 80's.
The Country's leadership will not change this year (1981).
Not only the congress (U), But all the opposition parties have no chance to come up till 1983.
There will be great devastation in 1982 by natural calamity (a big fire or earthquake) in the Asian subcontinent.
He also made his prediction during us military campaign against Taliban in Afganistan in October 14, 2001 issue of HINT weekly, along world's Numerological Horoscope shows the position of the countries in 'ZODIAC'. The predictions and results have been giving in the last of this book.
(A leading English daily of India has published all these predictions)
Friday, May 31, 2002
HT Gaziabad Live
A foreteller of facts within fiction
Atul Mathur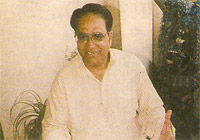 SCIENTIST S MAY reject it, but those participating it claim it to be a science. The fact is astrology, numerology and palmistry have a large number of believers. For many, the stars and lines offer professional, sustenance, and earn them. Pandit V.K.Sharma is one of them.
Famous for his accurate predictions, Pandit Sharma is a numero-astro-palmist. A resident of Ramakrishna Colony, he has developed his own science called Graphotology, which is a numerological analysis of one's life. Pandit Sharma has put in a number of years to develop his new "science" and claims tremendous success record. "Though I was not invited, I did my study and predicted that there would be no world war in 1984. Similarly, I also predicted Meneka Gandhi's little political rise and the decline of Nehru family soon. The time proved me right," says the imminent danger to Indira Gandhi's life. "She was faced with possible death during late 1984 or early 1985", he said. Events vindicated his prediction.
His took up numerology and astrology during 1969-70 when he was hardly 19. In the past 30 years, Pandit Sharma claims he has done tremendous study and experiments. Based on the knowledge he has acquired, he feels a time may come when medicines may not be required to treat a patient.
"Ours is a solar-based system. When we fall ill, we take solar energy in the form of medicines, fruits and vegetables. These are just mediums. In future we can take this solar energy directly. For example, earlier telephones, as a medium, used cables. Now we have cordless, mobile and satellite phones. That means the medium of wires has been done away with, "he argues. Pandit Sharma has written a book, Magic Numbers. Three more books, Tuning of the Hand, Tuning of the Lines, and Dermatoglyphics, are ready and may hit the stands very soon.
Given live telecast programme on many International channels like Sahara and etc